Your Clothes… Give Them to Me: Bots Invade Times Square Hotel [Video]
---
---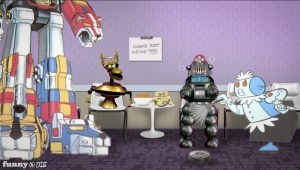 At first, it appeared the coolest thing about the new Yotel near Times Square was that the futuristic inn was almost entirely automated. Check-in is done at computer terminals in the lobby. The conference room doubles as a billiard hall, with the tables flipping from Powerpoint-enabled to pool cue-ready. The slick food may be prepared and served by humans, but, in the marquee flourish, luggage is handled by a robot bellboy. They call him the Yobot.
But no, this is not the coolest thing about the Yotel. That would be this amusing Funny or Die video (O.K., so it's a commercial) about the casting call for the robellboy. Test your nerd quotient and see how many of the mechs you can count.
Here's a fly-through video of the hotel, should the cheap room rates (starting at $149) still prove prohibitive:
Maybe if the Plaza had a few more robots in the building, it wouldn't be struggling so much.