R.F.K. Jr.'s Aqua Marines Choose Moinian
---
---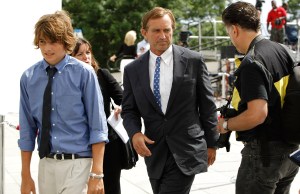 As the summer sun heats the Hudson to an aromatic brew, we hold our noses with one hand and tip our hats with the other to Robert F. Kennedy Jr.'s Waterkeeper Alliance.
There could thus be no better news than that the nonprofit has taken 4,000 square feet for five years in downtown's Whitehall Building at a bargain rent. The alliance is moving from its former suburban home in the 'burbs to Joseph Moinian's 17 Battery Place, where the asking rent was in the low-$30's per square foot and the unit was built-to-suit.
SL Green sold the early 20th-century gem to the Moinian Group for $70 million in 2004. Could it have been the building's stunning architecture or its close proximity to water that lured them there?
"Economics drove the deal," Scott Galin of Handler Real Estate told The Commercial Observer. "They had a certain budget that put them in Midtown west or downtown."
Along with Mr. Galin, Peter Newman of Handler also represented the tenant. Newmark Knight Frank's Robert Sattler and Adam Leshowitz represented the landlord.
Founded in 1999 by Mr. Kennedy, Waterkeeper Alliance monitors more than 100,000 miles of rivers, streams and coastlines. But they're not the only ones flowing downstream.
"We have a lot of folks looking downtown," Mr. Galin said. "It's not the garment tenants, but all kinds of professional firms and not-for-profits. For a view of value, that's one of the markets."