Lender Tries to Knock Down Leaning Tower of Madison Square Deal
---
---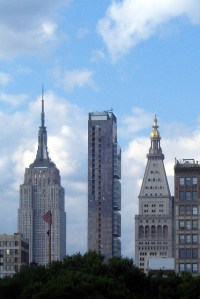 One Madison Park has been listing for more than a year now, the 50-story tower perched over Madison Square serving as one of the most visible victims of the real estate boom on New York's skyline. Last month, one of the building's few buyers, Bruce Eichner, took a $40 million stake in the building to help bail it out.
This was in addition to the sweetheart $5 million deal Mr. Eichner got for his apartment in exchange for an all-cash purchase that helped prop the 69-unit development up. The lead lender, iStar Financial, objected to both deals, and it is now gearing up for a court fight that begins tomorrow, according to The Journal.
In court papers, iStar is arguing now that Ira Shapiro, one of the tower's two original developers, has no right to negotiate with Mr. Eichner on a bankruptcy, as the building was put into receivership earlier this year. In orchestrating the bankruptcy and Mr. Eichner's involvement, Mr. Shapiro may even have committed fraud, iStar's attorneys contend, The Journal reports, and any deal would cost iStar half its equity while giving Mr. Eichner "an enormous return."
If the developers succeed in besting iStar, it would be yet another mercurial recovery for Mr. Eichner, who has seen real estate empires collapse both in the '90s and last decade. As is so often the case in New York City real estate, there's always second or third or fifth chances for a savvy operator.
mchaban@observer.com