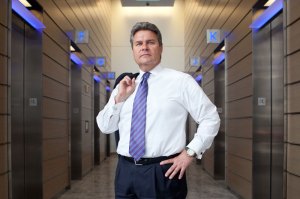 On a recent Wednesday, CB Richard Ellis broker Stuart Eisenkraft woke at dawn to make a call to the United Arab Emirates. That afternoon he was teleconferencing London, and in the evening he was dialing Asia from the comfort of his Upper East Side home.
Later this month, he'll be flying to England to ink a pending deal with a global company he represents. After that, it's off to Paris, the City of Lights.
This is the life of a self-described real estate straddler, the preferred term Mr. Eisenkraft uses to describe the kind of earthly puddle-jumping that, for him, is de rigueur as the co-chair of CB Richard Ellis' Global Cities practice.
"Why do I work 12-to-14-hour days? Because I started my day off this morning on a phone call to Dubai, and I'll end this evening at about 9:30, from my house, in Singapore and then Hong Kong," said Mr. Eisenkraft, a soft-spoken executive vice president at the firm who speaks four languages semi-fluently.
"I'm passionate about my business, which is why I'm not bored and why I'm still having fun."
With an estimated 70 deals currently being hashed out in South America, Europe, Asia, Mexico and across the United States, the real estate veteran is understandably busy, with much of his time spent in the air. But for all the high flying, it's a deal in Times Square-not so far from his home on 86th Street-that has been garnering most of the accolades for Mr. Eisenkraft in recent weeks.
'This was a concerted, cooperative, collaborative negotiation process that took place over a long period of months—because it was a very complicated transaction. There were, like, 10 underlying documents to this one.'
In a relocation deal that may, in fact, be the largest for a commercial tenant this year, Mr. Eisenkraft successfully negotiated terms for global law firm Proskauer Rose to occupy 380,000 square feet as an anchor tenant at the still-vacant, 40-story development project known as 11 Times Square.
For SJP Properties, the owner of the building, the deal marks the end of a long search for an anchor tenant at 11 Times Square and reverses suspicions by many real estate professionals that the tower had become a casualty of the country's deep economic collapse.
For Proskauer Rose, which leases more than a dozen offices spaces in four continents, the deal provides visibility that the company had lacked as a tenant at 1585 Broadway while also taking advantage of a multimillion-dollar subsidy from that building's owner, financial firm Morgan Stanley.
Indeed, as the future occupier of approximately 40 percent of 11 Times Square, the law firm's name will be advertised across the entrance to the edifice while its employees will work in the building's glass-encased, ultra-modern middle floors.
The deal, however, wasn't sealed overnight, said Mr. Eisenkraft. In the face of the dot-com calamity and a number of complex leasing issues-including a renewal option for Proskauer that Morgan Stanley hoped to avoid-discussions stalled for nearly a decade before reigniting just three years ago.
"This was a concerted, cooperative, collaborative negotiation process that took place over a long period of months-because it was a very complicated transaction," said Mr. Eisenkraft, who worked alongside CBRE teammates Michael Geoghegan, Andrew Sussman and Ramneek Rikhy on the deal. "There were, like, 10 underlying documents to this one."
Mr. Eisenkraft, 55, grew up on the eastern shore of Lake George, N.Y., the son of an Austrian man and an English woman who met during World War II. His father was an O.S.S. spy who met his wife-to-be at an English airport on the way to fight the Battle of the Bulge.
"He has nightmares to this day," said Mr. Eisenkraft of his father's battle experiences, which he shared with his son in detail for the first time last year. "What kept him alive was the image of my mother, who was in England."
Mr. Eisenkraft stumbled into real estate by accident. As a young man, he sold raw materials for a flavor and fragrance company, just as his father had done. But after the young marketing major found success in the business, a rift between him and a supervisor prompted an early exit and an impromptu foray into real estate.
After more than a year of considering his next move, Mr. Eisenkraft wound up at Williams, where after a short period of time he convinced the firm's International Commercial Realty Services group to expand its global services. His gamble was successful.
"I said to the ICRS people, 'You call it International Commercial Realty Services, but it's not,'" said Mr. Eisenkraft, who said the group did very little business outside of the United State. "They funded me to fly with the animals in the cargo to go around the world and find partners, which I did. We turned that into GVA, which I was the president of."
Since joining CB Richard Ellis, Mr. Eisenkraft has used his knowledge of the global market to spin over 25 million square feet in deals across the world, including several for Barclays, a longtime client that, more recently, has made inroads stateside. In the past two years, in fact, he has inked nearly 700,000 square feet in office deals for the financial services group in London, San Francisco and New York, Mr. Eisenkraft said last week.
But besides what he describes as a rather defined competitive streak, it's the thrill of the global real estate hunt that continues to keep Mr. Eisenkraft content with the work that he does.
"It's not beyond me to be taking off on a plane Saturday night, arriving in Tokyo, going to the hotel, taking a shower, starting work and then flying back Friday night," said Mr. Eisenkraft, who said he travels roughly twice a month, if not more frequently. "That happens. You learn to sleep on planes. If I didn't like it, I wouldn't do it."
jsederstrom@observer.com