Three Hedge Funds Take Prebuilt Spaces at Blackstone's 717 Fifth
---
---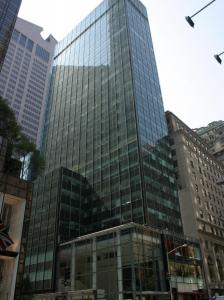 A trio of hedge funds have signed leases at 717 Fifth Avenue, each taking prebuilt spaces with asking rents of $75 per square foot. All will have relocated by May to the tower controlled by the Blackstone Group (an SL Green partnership owns an interest in floors one through four).
Boston Provident took 4,346 square feet for five years on the 12th floor. The firm will move from 600 Madison Avenue this month. Chris Whitman of Lincoln Properties represented the tenant.
Berchwood Partners signed a lease for five years for 4,177 square feet on the 14th floor. Gary Kamenetsky of CB Richard Ellis represented the tenant, which last leased at 599 Lexington Avenue.
Berens Capital took 8,476 square feet on the 12th floor for seven years. Brad Needleman and Ben Friedland of CB Richard Ellis represented the tenant, which moved from 1 Rockefeller Plaza.
Zachary Freeman, Brian Hay, Robert Stillman and Robert Alexander of CB Richard Ellis represented the landlord in all three transactions.