Inside the Barclays Center
---
---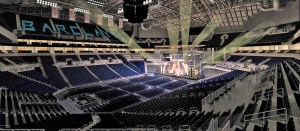 Now that Atlantic Yards is all but cleared for construction, Forest City Ratner is showing off what the interior will look like.
The new renderings are almost as space-age as the recent exterior shots, with stage lights beaming around in all directions. Aside from that, it mostly just looks like an arena, though the Post has a run-down of its bells and whistles. Notably, there's a feature designed to increase home-court advantage by aiming reflective materials back at the court, thus amplifying crowd noise. Which might be a good idea if the team weren't 7-56 and probably prefers not to hear what their fans are screaming.
There's some new light on the outside too. As Curbed pointed out, Barclays gets its logo splashed across the top–which might be some small consolation for not having the world-class architect (read: Gehry) that the big bank was expecting when it agreed to buy the naming rights. (The other consolation: it paid only half the original agreement.) Predictably, the Atlantic Yards Report thinks the logo could violate the design guidelines; ESDC says it will make sure it doesn't.
Ground breaks Thursday. Nets minority owner Jay-Z will be there. Meanwhile, over at Freddy's Bar, they'll have three-foot bobbleheads of the villains.