Midtown, Schmidtown! Currency Trader FXDD Subleases 40K Feet in 7 WTC
---
---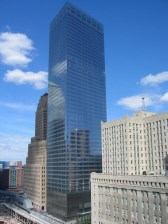 The currency-trading dynamos at FXDD will take the entire 32nd floor, a space of 40,717 square feet, at 7 World Trade Center. Founded in 2004, FXDD provides software and trading platforms for the global currency-exchange market.
In the world of trading, timing is everything, and FXDD's chairman, Emil Assentato, said the firm had "seized upon this opportunity in the real estate cycle" to lock down highly economic rates.
And while the financial universe may be contracting, it's apparently not a bad time to be trading currencies. Although FXDD was originally looking for 20,000 square feet of space, that figure more than doubled due to the company's rapid growth.
Soon after developer Larry Silverstein began showing the World Trade Center building in 2007, company representatives from Tradition North America, which has a minority stake in FXDD, toured the property. When ABN AMRO was bought by the Royal Bank of Scotland, its space in the building (which had been elaborately built out but never actually used) became available for sublet, and FXDD sprang at the opportunity.
Hank Walker of Grubb & Ellis, who represented FXDD in negotiations, said the company wanted "a prestigious Wall Street address in the center of currency trading. The firm never considered midtown."
Joe Harkins and Barry Lewen of Grubb & Ellis represented sublandlord the Royal Bank of Scotland.
egeminder@observer.com