Demographics Drive Booming Housing Markets Out West
---
---
Aided by the decreasing affordability of single-family homes and shifting demographic preferences for renting over homeownership, multifamily remains one of the CRE sectors showcasing the strongest growth in recent years. To determine the effect of shifting market factors on the property type's performance, Trepp examined its database of consecutive year-end financials on 23,479 private-label multifamily loans across the nine census divisions delineated by the U.S. Census Bureau. The average percentage change in annual net operating income was computed as a growth index indicator with a starting year of 2004 and a base value of 100 as a measure of the property type's performance over time. In other words, the index value in a given year shows the percentage change in multifamily income since 2004.
For the period between April 2010 and July 2018, the Census Bureau found that the West Coast's population rose by 5.9 million (8.17%) while the South (8.61%) added 9.9 million residents, compared to a combined 2.0 million gain for the Northeast (1.32%) and Midwest (1.99%). Overall, multifamily CMBS collateral in Western and Southern U.S. regions continues to exhibit faster operating-income improvements due to current migration patterns. They're one of the major drivers of housing demand: New resident inflow usually reflects strong local economies and healthy job markets.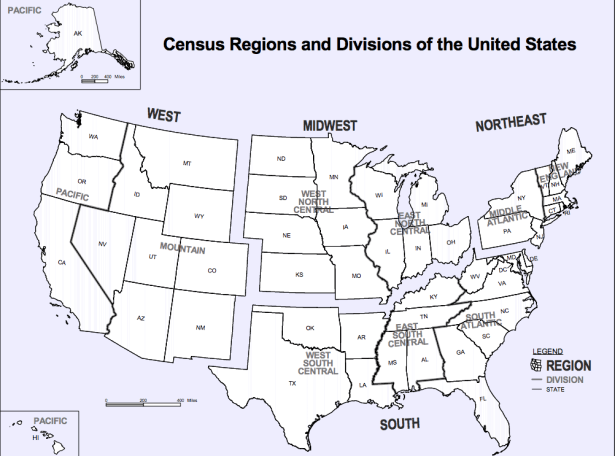 For the 2018 fiscal year, average growth for the Mountain region clocked in at 7.33%, far outpacing that of all other geographic areas in the country that year, while Pacific states logged a 5.77% gain. Growth remains elevated in the Pacific despite the ongoing housing affordability crisis in thriving California and Washington tech and urban locales. Meanwhile, Mountain housing markets are still rebounding after a delayed recessionary recovery period. Similarly, the South Atlantic (3.31%) and Southwest Central (2.96%) were the only other regions with growth above 2.5% in 2018 due a temporary boost from disaster-affected CRE segments that are slowly stabilizing during the rebuilding phase. In contrast, reported NOIs for the Middle Atlantic (-1.07%), Northwest Central (-1.05%), and Southeast Central (-0.65%) have contracted year over year as industry-specific downsizing, paired with demographic and regional dynamics, have contributed to a slight deceleration or softening.
By subtype classification, 2018's results were largely in line with expectations. Low-rise garden-style apartments, which have pipeline restrictions from expensive building needs on a per unit basis and usually entail higher barriers to entry, experienced accelerated rent growth last year that supported the sector's 7.39% growth rate. The mid- to high-rise segment recorded an increase of 4.39%, helped by favorable rental rates in densely populated urban centers, while senior living (0.26%) and student housing (-3.83%) growth held stagnant or turned negative year over year.
Catherine Liu, an analyst at Trepp, contributes the weekly ChartFinance page to Commercial Observer's print edition.