Presented By: Reonomy
How New CRE Tech is Empowering Opportunity Zone Deal-Making
The market's only Opportunity Zone search platform is transforming the way investors find, analyze and pursue viable properties.
---
---
Opportunity Zones are sweeping the nation. The government program, originally established as part of the Tax Cuts and Jobs Act of 2017, stands to stimulate development in distressed communities throughout the United States. While struggling census tracts will benefit economic growth, participating investors, developers and brokers will reap substantial tax breaks on capital gains–as long as they hold their assets for the minimum five years.
Although the reasoning for investment is clear, industry professionals are nonplussed at how to efficiently locate these assets for further analysisand unlock stronger deal-making. The answer? Powerful commercial real estate technology backed by off-market data. Reonomy, the industry's largest off-market commercial real estate platform, enables users to streamline their Opportunity Zone property search to make deals with decision makers before the competition does.
Why Off-Market Data Matters
The race for investing in Opportunity Zones is on. Demand for these properties is rapidly rising, making it all the more imperative investors and brokers have the right tools to quickly find potential assets for investment. Time is of the essence, too; as more players turn their attention to Opportunity Zone investing, the competition to source new properties will only stiffen.
With the clock ticking, commercial real estate technology and off-market data are essential, especially during the prospecting process. While listings provide a solid start, they're only a sliver of the entire asset stock across the nation, making the chances of finding and buying an asset less likely. Contrarily, Reonomy's off-market data trove consists of 54 million listed and unlisted properties, and currently helps users of all sophistication source off-market deals across the United State's 3,100 different counties. Ultimately, this database of the country's entire asset stock widens the scope of property options for consideration. It's this breadth of data that allows these CRE professionals a higher chance of identifying viable opportunities.
The depth of this data is invaluable as well, especially in the concluding stages of outreach and deal-making. Rich, granular information allows commercial real estate professionals to perform highly-targeted searches that serve up exactly what they're looking for in a potential asset. Then, this information can be explored at the individual property level, where users can dive into property details to uncover physical, transactional and ownership information. For example, investors and brokers can unlock accurate ownership information of promising off-market opportunities, including LLC titles, to reach decision-makers directly, rather than getting stonewalled by elusive gatekeepers. These same professionals can leverage the details sourced in the prospecting phase, like portfolio intel and sales history, to tailor their pitch specifically for their audience.
Better Deal-Making with Reonomy
Reonomy, a commercial real estate data platform, leverages powerful features and functionality to simplify the Opportunity Zone search. In addition to searching the nation's total asset supply, Reonomy is the only platform that allows users to search specifically for property in Opportunity Zones across all fifty states. This Opportunity Zone feature, combined with its comprehensive database and powerful search capabilities, makes Reonomy a favorite among investors and developers.
Of the 54 million different assets available in the Reonomy platform, nearly 6.8 million are located within Opportunity Zones. Reonomy's Opportunity Zone tool streamlines the prospecting process, enabling investors and developers to find properties in designated census tracts with a single click. Investors, developers and brokers alike use various filters offered in the platform to search for properties that match specific building and lot characteristics, debt and sales data, and more. Rather than relying solely on marketed listings or wasting precious time sourcing for properties manually, these professionals now have a powerful tool to navigate a competitive commercial market.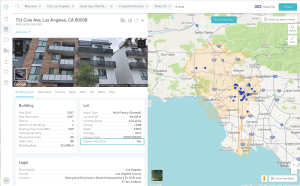 This off-market data also empowers better investment decisions. Reonomy users can click into individual properties to examine and unlock ownership information for outreach. This eradicates hours spent digging through property records and county files, giving users time back in their day to nail their pitch. While their competitors source property intel from disparate sources, real estate professionals have everything they need for stronger Opportunity Zone deals directly at their fingertips.
There's no denying the demand for Opportunity Zone investments will continue to climb. Luckily, the democratization of commercial real estate data and proper off-market tools totally transform the deal-making experience–it's the investors, brokers and developers who take advantage of them who will secure prized Opportunity Zone properties.
To learn more about Reonomy and try the platform for free, click here.