Presented By: New Water Street Corp.
Downtown's Best Kept Secret
55 Water - Everything is Elevated
---
---
The Class A office building at 55 Water Street, known simply as 55 Water, was once the largest office building in the world. At 3.9 million square feet of interior space, it remains the largest in New York City by area.
But paradoxically, the 53-story building is, in many ways, a well-kept secret, providing a tremendous opportunity for companies seeking large and efficient floor plates, an abundance of amenities, spectacular city and waterfront views, secure and reliable infrastructure, and a location that provides every attraction a company's employees could ask for.
55 Water is owned by Retirement Systems of Alabama (RSA), that state's employee pension fund, which purchased it in 1993 for $202 million. The building's status as a major investment for the fund, which has kept 55 Water debt-free, is a testament to its financial strength and a stability that tenants can count on.
"RSA has over a $40 billion portfolio, and over the years has invested hundreds of millions of dollars in the building," said Dan Palino, Chief Operating Officer of New Water Street Corporation, the company that manages 55 Water for RSA.
"The most recent renovation was the redesign of the lobby, which now provides an inviting and welcoming entrance for the employees and visitors of the tenants in the building, accompanied by additional amenities including a coffee bar and lounge area exclusively for tenants and their visitors. This added to the many existing building amenities including incomparable outdoor space."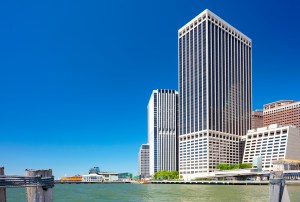 The building's third floor opens directly onto The Elevated Acre, a one-acre park with incredible views, a Brazilian hardwood boardwalk, and a seven-tiered amphitheater for events. There is also the 90,000-square-foot Vietnam Veterans Plaza immediately south of the building, which salutes that war's veterans. No other office building in Manhattan is immediately adjacent to two parks. These parks serve as a useful extension of the workplace for companies who call 55 Water their home.
"That was one of the things I really liked about this space, because our office goes right out onto the Elevated Acre," said Jay Stradwick, the co-founder of content creation company CreativeDrive. "A lot of times we'll rent it for photo shoots, but just to be able to walk out of an office building and have a park overlooking the East River—that's huge."
Other tenants have used The Elevated Acre for promotional events, employee parties or other similar uses. However, most of the time both parks serve as a welcome respite for employees who work in the building.
Other building amenities include a 600-car parking garage, a tenant-only cafeteria and restaurant (Cafe 55), which has a separate coffee bar (in addition to the new coffee lounge in the lobby), the Sky 55 Bar & Grill on the Elevated Acre and bicycle parking.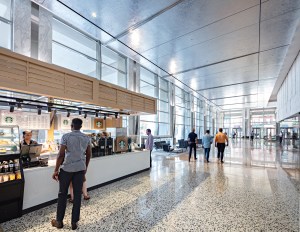 The building's appeal also includes huge and efficient floor plates, as big as 69,500 square feet, a rare opportunity in today's marketplace.
"The large footprint serves the desire to create an open plan and develop flexible work space, which a lot of employees are looking for," said Mitra Meshgin-Poosh, SVP Global Real Estate Services for S&P Global, which occupies just under one million square feet in the building over 15 stories. The company has been a 55 Water tenant since 1998, and recently signed an extension that will keep them there until 2033.
CreativeDrive required open spaces for their photo and video studios. They spent a year and a half searching before finding them at 55 Water, where one floor gave them the 18-foot ceiling heights they required. The company took around 73,000-square-feet over two floors, moving in two years ago.
"Ceiling height is very important for us, because when you're lighting a set or building a room set, you want to throw your lights above that," said Stradwick.
"We needed a shell we could create 12 large studios in. That was very hard to find."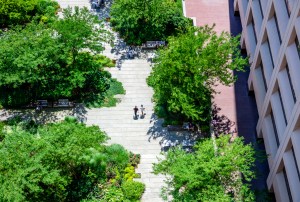 Meshgin-Poosh also notes that given the building's location near the southern tip of Manhattan, it comes with enviable views.
"There's not a single window that doesn't have some spectacular view of New York City," she said. "Anywhere our employees sit, they get an incredible view and a tremendous amount of light."
The location doesn't just provide for amazing views. The surrounding area has also evolved remarkably over the past decade.
Once a sleepy business district, 55 Water now finds itself in a real 24/7 neighborhood, complete with bars, restaurants, and bustling streets at all hours.
"If you came here in the late 1980s, there was no residential. There's a lot of residential now," Palino said. "When I'm coming into the building, people are walking their dogs, taking their kids to school, jogging. It's a 24/7 area here now, which a lot of people don't realize."
As such, nearby attractions include everything from the revitalized South Street Seaport, with its new Pier 17 rooftop amphitheater, the popular Stone Street, the legendary Fraunces Tavern bar, and restaurants including Delmonico's Steak House and the world famous Dead Rabbit.
And transportation to the area couldn't be easier, with numerous nearby subway stations, and a ferry stop down the block.
Additionally, substantial infrastructure investments have gone into 55 Water, including upgrades in HVAC and generator systems, over the past few years.
The building's superior infrastructure is one of the factors that drove fashion giant Hugo Boss away from their almost century-old Chelsea headquarters, and into a full floor at 55 Water.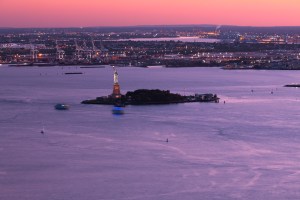 "You can't beat the infrastructure here," said company office manager Oscar Castillo.
"Coming from an old building, there was a lot to worry about. Every time it rained, we'd have leaks. We always had problems with power. The voltage wasn't consistent. I was working non-stop on the weekends just to keep the operation afloat. After moving to 55 Water Street, all those issues disappeared."
Given this, 55 Water is also a solid choice for the fast growing technology companies, as it guarantees consistency in ways most Manhattan buildings cannot.
"Our emergency power gives them backup in case there are power outages," said Palino. "We're open 24 hours a day, seven days a week, and our HVAC runs from 8 a.m. to 1 a.m., Monday through Friday, and 8 a.m. to 6:00 p.m. over the weekend. A lot of companies, especially tech companies that deal worldwide, need those hours."
Ownership of 55 Water has also made a significant investment in sustainability, bringing the building to LEED Gold certification, one of the largest buildings in the country to achieve this designation.
Whatever a company's needs, from large, flexible floor plates to state-of-the-art amenities to a location brimming with life, the new 55 Water, downtown Manhattan's best kept secret, has everything a company could desire.