Spring's in the Air: How Palm Springs Went From Desert Getaway to Hipster Playground
---
---
Los Angeles is the second-least affordable city in the U.S., for both home renters and buyers, according to the 14th Annual Demographia International Housing Affordability Survey: 2018, a fact that has many heading east—more specifically to Palm Springs.
A desert town located at the base of the San Jacinto Mountains, synonymous with midcentury modern architecture, Palm Springs may have been the playground of the Hollywood elite and retirees, but of late it has become a hotspot for hipsters, telecommuters and members of the LGBTQI community, all looking to reside full-time in a more reasonably priced and slower-paced locale.
Moreover, serious real estate investors see the area's potential: earlier this year The Desert Sun reported that BlackRock had picked up 167 acres of land with a potential to build some 1,100 homes in the Palm Desert. The price wasn't immediately available and attempts to reach BlackRock were unsuccessful.
The city of Palm Springs, 106 miles from L.A., was first developed in the 1930s as a weekend getaway L.A. dwellers, but it wasn't until the 1950s that it gained a broad appeal when Alexander Construction built more than 2,000 contemporary, stylish and affordable tract homes. Today the Alexander homes go for around $500,000, and are a cherished investment.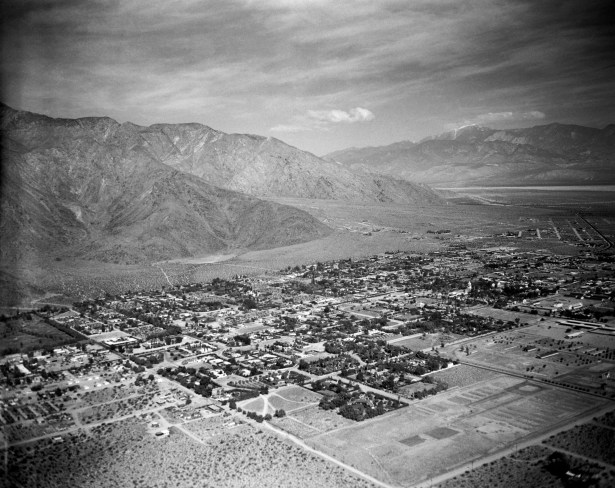 Flinn Fagg, the director of planning services for the City of Palm Springs, said in the three years since he's lived in Palm Springs, his office has seen a marked increase in entitlement requests, primarily for building small-lot single-family homes—one of the greatest indicators in assessing the need for to the city.
"People are looking for detached homes with yards and pools," Fagg said. "We've been busy in terms of applications. If you compare between 2010 until now, we've easily increased the applications from 1,200 to 1,700 per year."
As of January 2018, the average price for a single-family home in Palm Springs was about $495,000, and a condominium unit about $220,000, according to Zillow.
The median sale price for a single-family home in Los Angeles is $704,500 with a 2.9 percent projected increase by 2019 and the median monthly rent is $3,500, Zillow indicates.
Palm Springs is building largely to keep up with those who're flooding to the desert for an easier and more reasonably priced lifestyle with all the amenities of a vacation destination.
Brad Shuckhart, the division president for the California region of Freehold Communities—a group of developers focusing on lots in Texas, Tennessee, North Carolina, Florida and California—and the project director for Miralon, a Palm Springs-based master-planned community in the works, explained that communities such as Miralon are anomalous in Palm Springs primarily because it is an older community. But developers are confident they must build it, because people are already coming.
"We expect to have a fairly broad draw from millennials to retirees," Shuckhart said. "The desert does skew older, but it's unique in the Coachella Valley, which contains the resort cities of Palm Springs and Palm Desert, as well as Indio, La Quinta, Indian Wells and Cathedral City, as there's a vibrancy that you don't find in similar communities—meaning there's more activity across the age spectrum and the lifestyle spectrum."
He added: "We've seen interest in this community from people up and down the West Coast, as well as the Midwest and even parts of Canada. If you are a telecommuter or are retired or going to retire, and you're looking at cost of living, the desert offers a more affordable way to continue with a lifestyle you've become accustomed to, but no longer want to pay for—at least to the extent you'd pay for it in L.A."
With its year-round population of almost 48,000, historically Palm Springs' youngest residents tend to leave after finishing high school, but today the city is finding its millennials returning to start their own businesses; three of the desert's hippest bars and restaurants are owned by four members of Palm Springs High School's class of 2002.
Between the annual Palm Springs International Film Festival,and the 77,500 people who descended on the town for Modernism Week 2016, it's clear this little desert resort town has become a cool 21st-century destination.
Taking a unique approach to target a new buyer, Miralon has spent the last several months working with the city to convert the greens (the property was originally built as a golf resort), to what its executives believe is a more diverse and inclusive use of space.
"We've changed it to a system of plantings, which are largely olive trees, the fruit of which will be harvested by the [home owners association] through a contract, and pressed into olive oil and made available to future residents and members of the community," Shuckhart said. "We believe that there is a better way to use the open space that's more inclusive that would appeal to a broader range of people. Whereas golf may appeal to a subset of those, we believe everyone will enjoy this active open recreational space."
Miralon will also leverage the existing golf space into hiking trials, offering what it calls "social spaces," seating areas, Wi-Fi hotspots, community gardens, fireplaces and a club house—an 11,000-square-foot facility with seven or eight buildings all connected by a large shade structure—offering pools, spa, exercise rooms, and even a bar that will operate to the benefit of the HOA, according to Shuckhart.
When Miralon is finished this fall, it will offer 1,150 units, 400 of which will be affordable townhouses priced between $300,000 and $400,000. The balance will be traditional and larger single-family homes with prices in the mid-$700,000s, all built in a modern aesthetic.
In addition to planned communities and new homes, the activity in downtown Palm Springs isn't just hot hotels like the luxe Arrive hotel, which opened in 2016, or a new Kimpton, which bowed at the end of 2017, but a number of new restaurants, and the tony Uptown Design District (Ezra Callahan, Facebook's sixth employee, is one investor)—a two-mile stretch chock-filled with over 50 unique interior design boutiques, galleries, shops and galleries located inside stunningly-restored midcentury modern buildings.
"What created the resurgence of Palm Springs is it became accessible," Tara Lazar told The New York Times in March of 2017. She is a lifelong resident who bought and renovated the Alcazar Palm Springs hotel in 2009 and now owns and operates three local restaurants and a bar called Seymour's. "It was always for the elite and the wealthy," Lazar said, "and then all of a sudden, other people could afford to come and stay. There is now a middle market. We have young people in Palm Springs, and that hasn't happened in more than 20 years."
The annual Coachella Valley Music and Arts Festival have also raised the profile of the area. Palm Springs has always had the marquis name, but now the city of Coachella has been put onto the map.
Thriving with diversity, all one needs do is take a stroll down the rainbow-flag strewn Palm Canyon Drive, to see that Palm Springs has one of the largest LGBTQI communities in SoCal. Once a conservative outpost, it has become an internationally known place of residence for gays and lesbians.
The city is ranked first in California and third in the U.S. among cities with the most same-sex couples (per 1,000 households), according to analysis of U.S. census data by the Williams Institute at the UCLA School of Law.
The community has a thriving year-round LGBTQI culture for residents and the Palm Springs Pride Festival is hugely popular, honoring the history of the gay rights movement. In November 2017, the city elected an all-LGBTQI city council.
"Palm Springs has become a very inclusive community to LGBTQ folks," said Gretchen Gutierrez, the CEO of the Desert Valleys Builders Association. "It's more affordable and it's a community that has wholly embraced LGBT people."
She said that although building in the desert isn't easy, she can't deny that there is absolutely a demand for housing. And although things can take a couple of years to build after filing for entitlements and permits, it does appear that the building market is growing.
Fagg said he hopes the city doesn't become too crowded with L.A. folks, as what people like about Palm Springs is that it isn't L.A. or Orange County.
"It's a low-rise city," Fagg added. "It prides itself on having open space and a relaxed style of life. The roads aren't crowded. It's walkable and bikeable. If you want to get coffee, you just jump on your bike and go. You don't have to sit in traffic for 20 minutes, and additionally it's more affordable than L.A."
It should be said that Palm Springs is still California, so on-average the cost of living is higher than it would be in the Midwest or a small town, but definitely less than cities such as New York or Boston, and about 8 percent less than the California average.
With additional reporting provided by Max Gross and Lauren Elkies Schram.
Alcazar Palm Springs
,
Alexander Construction
,
Arrive
,
BlackRock
,
Brad Shuckhart
,
Coachella Valley Music and Arts Festival
,
Desert Valleys Builders Association
,
Ezra Callahan
,
Flinn Fagg
,
Freehold Communities
,
Gretchen Gutierrez
,
Kimpton Hotel & Restaurant Group
,
Miralon
,
Palm Springs
,
Palm Springs High School
,
San Jacinto Mountains
,
Seymour's
,
Tara Lazar
,
Facebook