Kaufman Astoria Studios to Build Eighth Studio
---
---
Kaufman Astoria Studios has announced plans to build a new 18,000-square-foot sound stage on its Astoria, Queens campus within the next two years.
Stage N would bring the total number of stages at the movie, television and music production site to eight, not including a music recording studio that can double as a stage.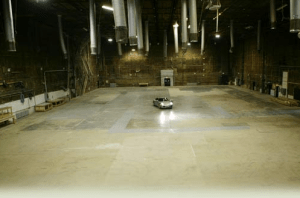 The company's president, Hal Rosenbluth, issued a written statement attributing the expansion to the continued strength of the industry, noting that "movie and television production in New York City has never been stronger."
"With Stage N, Kaufman Astoria Studios will be able to accommodate even more projects and continue to make New York the film and television capital of the world," he said.
The 500,000-square-foot studio space's seven existing sound stages range in size from 3,260 to 26,040 square feet. It recently opened New York's only outdoor lot for exterior shooting, featuring 34,800 additional square feet of space and an entry gate designed by David Rockwell with a lit steel truss that rises 40 feet above the street.
Recent, current and upcoming productions at Kaufman Astoria Studios include Orange is the New Black (Netflix), Alpha House (Amazon), Nurse Jackie (Showtime), Deliver Us From Evil (Jerry Bruckheimer Films), Sesame Street (PBS), Flesh and Bone (Starz), State of Affairs (NBC pilot), Men in Black 3, The Secret Life of Walter Mitty, The Bourne Ultimatum and The Bourne Legacy.
Built in 1920, the studios include the oldest sound stages still in use today and more than 100 films were produced there as the original home of Paramount Picture during the silent era. Rudolph Valentino, W.C. Fields, the Marx Brothers, Sydney Lumet, Francis Ford Coppola, Jonathan Demme, Paul Greengrass, Woody Allen and Martin Scorsese are among the actors and directors who have worked at the studio, according to the company.